Yesterday Tomorrow2015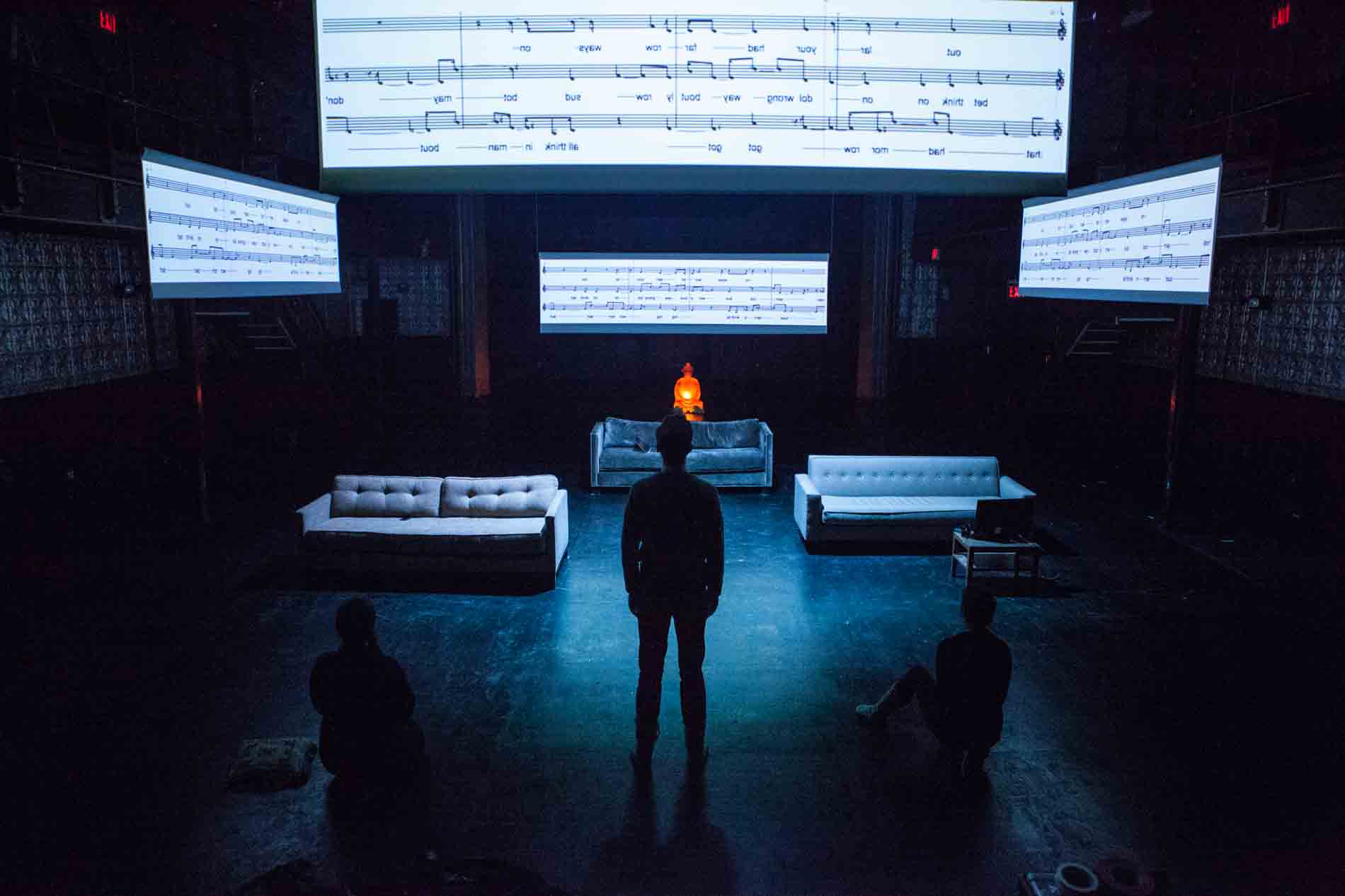 Yesterday Tomorrow is a kind of musical, a collaboration between human artists and evolutionary algorithms. In this work, a trio of live singers are fed a real-time algorithmically-generated score to create an environmental concert of song, software, gesture, light, and space. Inspired by a kind of artificial intelligence known as evolutionary computation, Yesterday Tomorrow gives a unique experience of the complexity and unpredictability of the present tense contrasted with the known past and the imagined future.
Beginning with the Beatles' "Yesterday," algorithms slowly transform that song into "Tomorrow" from the musical Annie. Three singers receive the computer-generated music and lyrics both aurally and visually, and follow a movement score, also produced algorithmically, that moves them from a starting to an ending position. Each night, the spatial and musical path from the past to the future is different; neither the singers, the creative team, nor the audience knows where we will end up.
The singers onstage and the computer generated melodies and lyrics blend to create a disorienting series of alternations: between human and machine, between sound and sense, between the recognizable and the utterly unfamiliar. Finally and eventually, it's a piece about the passage of time, about progress and regress, about the loss of one world and the optimistic creation of another.
ARTISTIC TEAM
concept/direction
Annie Dorsen
music director
Joanna Bailie
computer programming
Pierre Godard
additional sound design
Ian Douglas-Moore
video systems design
Ryan Holsopple
lighting design
Bruno Pocheron and Ruth Waldeyer
technical direction
Ruth Waldeyer
original producer
Alexandra Rosenberg
management/production
Natasha Katerinopoulos
performers
Hai-Ting Chinn, Jeffrey Gavett, and Natalie Raybould
IMAGES
PRESS
"...a haunting and strangely beautiful musical theater piece that is as simple in its emotional appeal as it is complex in its conception and execution."
Charles Isherwood,
New York Times
"Through complex musical territories, Annie Dorsen takes us on a daring concert...sometimes harsh, sometimes cheerful, the random and technological dimensions of which provoke disturbing reflections on our condition. And our freedom."
Manuel Piolat Soleymat,
La Terrasse
"Annie Dorsen has created a brilliant work in which popular culture crosses the elite, and where performance is support for an entirely pertinent interaction between the human and the digital. Run to it tonight."
Amelie Blaustein Niddam,
Toute La Culture
"Annie Dorsen provides a space where one can fully feel and finally enjoy the present moment in all it has to offer...A meeting of Broadway, experimental music and contemporary theater, Yesterday Tomorrow is a work that does not revolutionize the contemporary scene but opens a huge door for possibilities of a resurgence of theatrical creation. In its short format, this proposition is both accessible and sharp in its implementation and its problematics."
Pierre-Alexandre Culo,
Théâtre-Actu
CO-PRODUCERS AND FUNDERS
Yesterday Tomorrow is a co-production of Holland Festival; Black Box Teater (Oslo); Performance Space 122 (New York); La Villette – Résidences d'Artistes 2015; TANDEM – Scène nationale Arras Douai; Théâtre de Gennevilliers with Festival d'Automne à Paris; Maillon, Théâtre de Strasbourg – Scène européenne; and Théâtre Garonne, Scène européenne, Toulouse. Made possible, in part, by The MAP Fund, with the assistance of the Doris Duke Charitable Foundation and the Andrew W. Mellon Foundation, and by the New York State Council on the Arts with the support of Governor Andrew Cuomo and the New York State Legislature. Additional support provided through fiscal sponsorship and a residency at Mount Tremper Arts; and a residency at Abrons Arts Center.
---