The Great Outdoors2017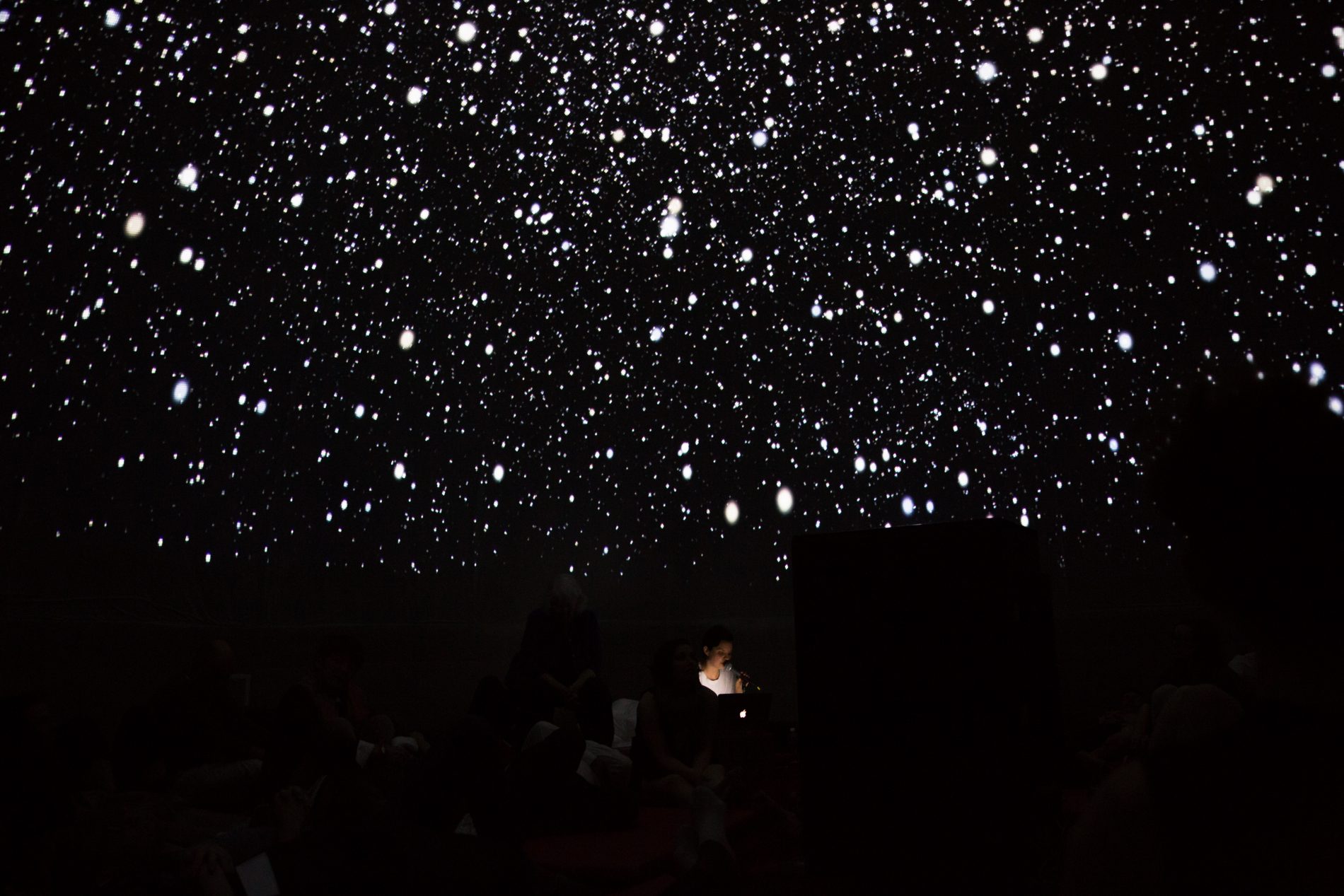 The Great Outdoors takes us on a sublime journey through inner space in the darkness of a planetarium. A lone performer reads texts culled from internet comments and fed through an algorithm, giving voice and body to the thoughts of countless individuals all tapping away at their keyboards in isolation. As fragments of narrative emerge from the chatter, Dorsen invites us to imagine the internet's infinite possibilities as a new form of celestial authority, and the comments as the internet's id—unrestrained and protected by anonymity.
ARTISTIC TEAM
concept/direction
Annie Dorsen
text programming
Miles Thompson/Marcel Schwittlick
starshow design
Ryan Holsopple/Annie Dorsen
starshow programmer
Ryan Holsopple
technical director
Ruth Waldeyer
original producer
Alexandra Rosenberg
management/production
Natasha Katerinopoulos
IMAGES
PRESS
"Watching The Great Outdoors might be what it is like to listen to outer space at the National Radio Astronomy Observatory's Very Large Array, on a clear night in the New Mexico desert. While the cosmos whirls above us, the horizon tilts and the moon comes into greater and greater focus, we can hear what's being said "out there" somewhere."
-Molly Grogan,
Exeunt
"The Great Outdoors (2017), set in an inflatable planetarium, fashions a script from harvested Reddit comments, inviting spectators to contemplate the nature of human expression and communication... its text spanned a spectrum of expression from the banal to the idiosyncratic and deeply personal."
-Miriam Felton-Dansky,
Fusebox
CO-PRODUCERS AND FUNDERS
The Great Outdoors is a co-production of BIT Teatergarasjen & Bergen International Festival (Bergen, Norway), Crossing the Line Festival/French Institute Alliance Française (New York, NY), and Noorderzon/Grand Theatre Groningen (NL). The Great Outdoors is supported by the Hermès Foundation within the framework of the New Settings Program. The Great Outdoors is created with the support of King's Fountain; developed in part by Live Arts Bard at the Richard B. Fisher Center for the Performing Arts at Bard College (Annandale on Hudson, NY); and supported by a residency at Abrons Arts Center (New York, NY).
---