Prometheus Firebringer2023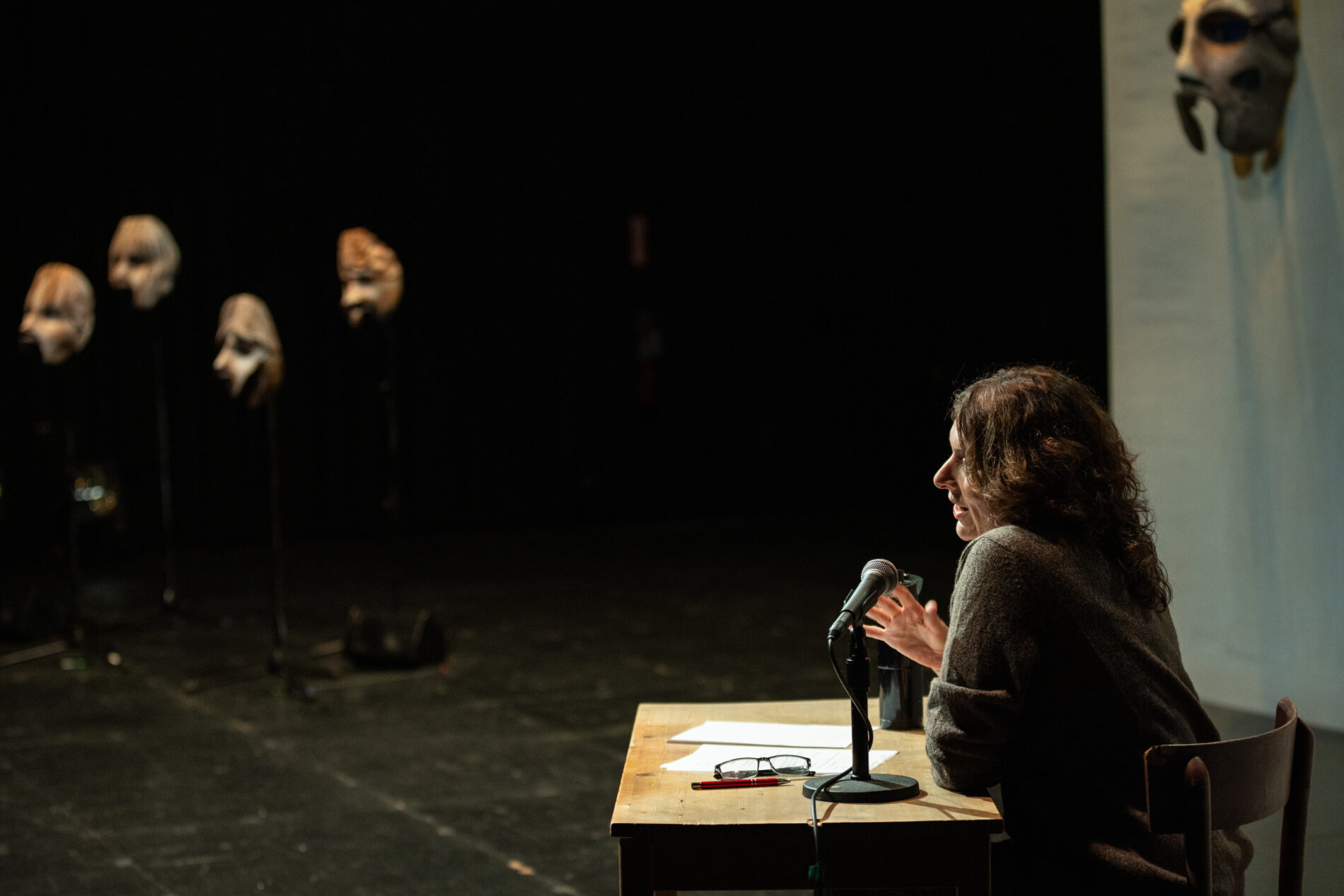 "What shall I do?" is a question at the heart of every Greek tragedy, observes philosopher Simon Critchley. When there are no good options, when every course of action comes with unbearable costs, how do you choose? This question inspires Prometheus Firebringer, which continues Dorsen's exploration of the ambiguous impacts of technology.
In ancient Greek mythology, Prometheus stole the gods' fire to give to humans—sparking sudden and dramatic advances in technology and the arts, and dramatic new sources of conflict. His story is told in the 2500-year-old Prometheia trilogy attributed to Aeschylus, of which only Prometheus Bound remains in full.
In Prometheus Firebringer, Dorsen uses the predictive text model GPT-3 (a precursor to ChatGPT) to generate speculative versions of the missing story. Each night a chorus of AI-generated Greek masks performs a different iteration, while Dorsen engages the audience in reflections on power, knowledge, and doubt.
Although the explosion of artificial intelligence technology into our daily lives feels unprecedented and new, Dorsen asks if we have been here before. She reflects openly on her influences, standing in contrast to how the black box of AI operates. How do we decide to act when we can't trust our sources? And who do we become in the face of a technology controlled by a select few, especially when its workings remain a mystery?
ARTISTIC TEAM
writer/director/performer
Annie Dorsen
sound design
Ian Douglas-Moore
video & systems design
Ryan Holsopple
lighting design/technical direction
Ruth Waldeyer
software design and programming
Sukanya Aneja
voiceprints
Okwui Okpokwasili, Livia Reiner
producer
Natasha Katerinopoulos
IMAGES
CO-PRODUCERS AND FUNDERS
Original support for Prometheus Firebringer was provided to Bryn Mawr College by The Pew Center for Arts & Heritage, Philadelphia. Prometheus Firebringer is supported in part by commissions from New York Live Arts' Live Feed Residency Program with additional support from Partners for New Performance, and Media Art Xploration's MAXmachina laboratory funded in part by Science Sandbox. The piece was developed with the support of the Eureka Commissions program created by Onassis Foundation, and the Mercury Store.
---